Since Then by Pierre Bocuse
In honor of the new Nerve Cookbook site, NerveRadio features this "balmy concoction of dishes" sung in Portuguese from Bocuse's brand-spankin' new CD... on the Body Channel.

laracroft
"I collect advice books for women and have the most hilarious time checking out the absurd world views they're based on."



Sixty-Second Advice
This week's advice: If a man you've never met before suddenly gives you flowers, that could be "Stalking."



Promiscuity
Chat with Howard Stern, author of Promiscuity about how much human behavior — from the Inuit hunters' habit of sharing their wives' cooking skills to Charlie Chaplin's paternity case — is influenced by sperm competition — WED, OCT 25, 1PM EST.



Bitchy Cookbook
A collection of cooking recipes written by William Powell Jr. which is unfit for publication in any of his usual outlets.



Going Camp with John Waters
The king of cult talks about bad cooking and good friends.



Hi Honey, How Was Your Day?
"Every time I'm met with ignorance or negativity, I try to see it as another opportunity to refine my own character. If that doesn't work, a blunt object upside the head of said offender usually does." — bluetrane, post #798





What film would you most like to see the cooking scenes of?





today
A Stranger Couple
What's it like to cook something exquisite for someone you've just met—on camera? An unusual blind date.
| | |
| --- | --- |
| | this week |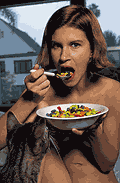 "I am a marvelous housekeeper. Every time I leave a man, I keep his house."
— Zsa Zsa Gabor