ITS-Z1, Ritopek, Belgrade
16 June - 21 July 2012. Opening on 16 June, 18h.
http://its-z1.org/ | www.code-flow.net/neighbours
Apartment Project
The artist-run space was initiated by Selda Asal with the aim of providing artists an oppurtunity for interdisciplinary collaboration and hosting their own exhibitions. Since its opening in 1999, it has been host to various performances, installations, exhibitions, happenings and events. Some of these projects have travelled to other locations, and projects travelled to exhibit at the Apartment Workshops and artist weeks have been organized, incorporating the project space's studio and other locations.
apartmentproject.com | rv-rl.blogspot.com
Re-Locate
Series of workshops, 2008-2011, wall documentation, 2012
Participants: Mehmet Dere, Ha za vu zu, Gjorgje Jovanovik, Alban Muja, Suat Öğüt, Zeyno Pekünlü, Ilgın Seymen, Raycho Stanev, Gökçe Süvari, Mary Zygouri; documentation and backstage: Selda Asal; assistants: Zeynep Beler, Eda Gecikmez, Mari Jögiste
The theoretical framework of the Re-Locate project is based on the population exchange between Anatolia and the Balkans and it focuses on the flexibility of the borders, cultural similarities, controversies, the lack of communication between cultures, as well as various methods of developing new communication models. In addition, the project aims at establishing a new network between artists, curators, writers and institutions by making the shared history in the selected places its most important guide.
The Re-Locate Project proposes an experimental workshop practice that is based on mobility and translocation. The suggested mobility tries to en- compass the physical transitivity of the cities and borders, as well as the flexibility of historical, identitarian, and ideological borders.
Re-Locate project consists of a series of workshops that are realized in this framework. The first part of the series is realized in Plovdiv, Athens, Skopje, Prizren, and Pristina with the participation of Gökçe Süvari, Ha za vu zu (Özgür Erkök, Güneş Terkol), Ilgın Seymen, Mehmet Dere, Suat Öğüt, and Zeyno Pekünlü. The group worked in collaboration with the local artists in the places that they visited. They worked on both their individual works and collective works and shared their experiences with each other.
The second workshop is realized in Istanbul with the participation of the artists who were invited to Istanbul from the places that are visited: Alban Muja, Gjorgje Jovanovik, Mary Zygoury, and Raycho Stanev.
Reciprocal Visit
Series of workshops, 2009, wall documentation, 2012
Artists: Endam Acar, Selda Asal, Volkan Aslan, Fatma Çiftçi, Zeren Göktan, Deniz Gül, Gözde İlkin, Ceren Oykut, Gökçe Süvari, Sophia Tabatadze, Nadia Tsulukidze, Sona Abgaryan, Tsomak Oga, Ali Hasanov and Shahab Fotouhi
The conceptual framework of the workshop divided into two stages was developed by video artist Selda Asal and curator Serra Özhan. In the first phase of the project, artists Endam Acar, Selda Asal, Volkan Aslan, Fatma Çiftçi, Zeren Göktan, Deniz Gül, Gözde İlkin, Ceren Oykut, Gökçe Süvari and Sophia Tabatadze visited Georgia, Armenia, Azerbaijan and Iran in April 2009.
The collective undertook an experimental exercise that was created there and then throughout their journey by bus and train: An experimental workshop involving different ideas emanating from the collective, different experiences brought on by being together and sharing, various narratives using different materials and drawings, photographs, videos, texts and talks produced in places visited.
The second phase of the project was a workshop organized at DEPO in July 2009 with artists from countries visited: Sophia Tabatadze, Nadia Tsulukidze, Ali Hasanov, Tsomak Oga, Sona Abgaryan and Shahab Fotouhi. The work produced in these two phases, an archive of the production process and a selection from the video archive of 'Archidrome' Contemporary Art Archive, Georgia, will be presented at DEPO between 20 November and 31 December 2009.
Ha Za Vu Zu will perform a sound piece based on the road stories and the working process of both the Reciprocal Visit and Relocate projects.


Apartment Project, Re-Locate, sample wall, 2012.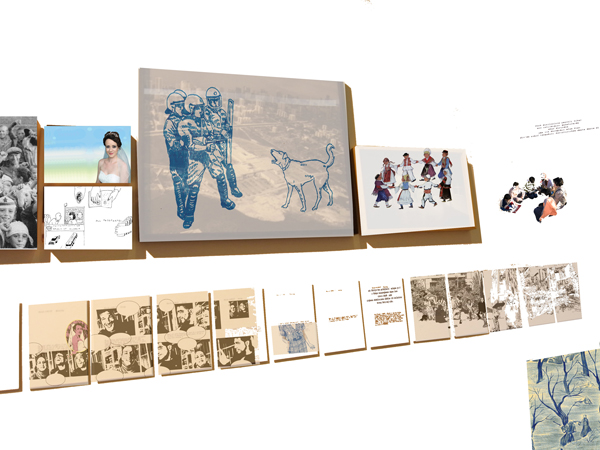 Apartment Project, Re-Locate, sample wall, 2012.
Blackhole
In Prizren, before going to the concert at night, the friends that we made there, suggested to have a beer by the river. While we were getting prepared to sit on the benches at a corner near by the little waterfalls, we realized a big hole on the ground. According to what our friends from Prizren told us, the manhole covers were valuable since they are made out of metal and it was normal that people frequently steal and sell them. The municipality was late in replacing the stolen cover. We spent our night around the coverless manhole by trying not to fall into it and inventing theories about it. The black hole was transformed into the metaphor of the ambiguous future that was waiting for us in Pristine. One of us asked why they didn't put a warning sign around the hole to prevent people to fall into it and this question made Sezgin and his friend start a serious conversation about "what is knowledge good for?". With the enthusiasm of the moment, they accepted the kazoos that were handed to them and made a memorable spectacle by continuing their serious conversation by speaking through the kazoos. Two people arguing through the kazoos, other people around drinking beer and having fun, and the waterfalls created a beautifully absurd atmosphere, so that we forgot about the concert and let the black hole lead our night.
Bilal, Can We Call You Father?
When we wanted to meet people who speak in Turkish in Athens, our Greek friends brought us to Gazi Neighborhood. There, we were introduced to one of the famous figures of the neighborhood, Bilal (Makis Parisis) and his wife. Bilal was from Komotini and he was earning his living by making music since years. We clicked with each other from the first minute and had a long conversation. A few people from our group even went to the house of Bilal's niece at the end of the night. When Bilal learned that we were dealing with photography and video, he asked us whether we could make a video clip for him or not. He told us that he wanted to use technological facilities and to be able to show his music to people from Youtube. This idea made us very excited because since the beginning of our trip, we were concerned with not only taking things from the places we go but also constantly asking ourselves "what can we give?". Then, we made an appointment with Bilal and the next day almost everyone in the group was working for the clip. Suat was shooting the video, he even decided to make two clips instead of one; Zeyno was a figurant with her wedding dress and husband; Güneş and Özgür were accompanying the music with the orchestra they formed with the children of the neighborhood; and Mehmet was the photographer of the set. The decision of shooting this clip and actually making it was one of the best moments of the trip in which we realized most of the things that we wanted to achieve in this project.
There is a Macedonia Out There
We already didn't feel like leaving Athens but we didn't know that it would be physically this difficult to leave anyway. When we were there, there were strikes in many different sectors in Greece and railroads were one of them. We were thinking that we would hit the road in comfort towards Skopje but all of a sudden we were striked by the fact that taking the train was not an option. Transportation between Greece and Macedonia was not so good due to the disagreements between the two countries. We knew that there was a pirate bus running after the trains stopped but we couldn't find nor the name, neither the telephone number of the company. They didn't have an office at the bus station. We asked if we could rent a vehicle but they asked for such a high price that they could fix Greece's economy with it. At the end, Selda courageously said: "Let's go to Thessaloniki, we'll figure it out from there". We didn't know what our next stop would be until we arrived in Skopje. In Thessaloniki, we said that we wanted to go to Skopje, they said, "we don't know about that but there is a bus to the border village Polikastro, if you want". We said "Skopje?" when we arrived in Polikastro, they said, "we don't know about that but there is a bus until the border if you like". We got off at the border, had our passports checked in the area that was in fact for the lorries and left Greece by walking. We had to walk for four kilometers to arrive Macedonian part of the border. We put on our sun creams, started to drag our luggage and tried to decide whether we should hitchhike or not. At that moment, two smart Macedonian taxi drivers embraced us with open arms. It was indeed not a mirage that we had due the heat. We had a serious bargain and managed to arrive in Skopje.
Bee, buzz buzz buzz
It was still ambiguous what we were going to do in the Kosovo part of the project, due to the disagreement we had with the partner institution there. We were lucky that Sezgin arranged the right contacts in Prizren but we had only a day and a half to complete what we want to do. At that moment, the willingness we had to finish this project in the right spirit turned us into Maya the Bees. The army of Maya the Bees was moving forward by buzzing, spreading their enthusiasm and including people who they got in contact with. When we arrived at Pristine, we started to work in the restaurant that we ate. Selda gained the title of "the first person who reached the light speed" by completing the presentations of the project and the eight artists in only five minutes. Koya, who listened to the presentations carefully, called people to tell them what we needed. Alban joined her as well and we heard the following sentences floating in the air: "we want to be in the local radio", "we are looking for a pedestrian road that we can block", "we need a place to make music", "we are looking for a graffiti artist", " we need a husband", "we need jokes", "we need books"… Although Alban and Koya were new in the Maya the Bee business, they were so quick in introducing us to people that we needed. The next day was a hubbub in which everyone was working on the same things with joy. Zeyno was wearing her wedding dress in the middle of the street on the Cut the Flow poster; Suat was catching people watching this scene with surprise and asking them to tell him jokes; Ilgın was covering all around the city with posters; Mehmet was questioning Alban; Selda was editing the video for the night performance at every corner where there was a plug. We blocked the way and run to the concert rehearsal. When we finished our work, as well as the concert, we realized that all this buzzing was not for nothing; we had a taste of honey in our mouths.
Alexis Park
There was police at every corner in Athens and actions in different parts of the city every day. Before we arrived there, fourteen immigrants were severely injured during an attack by the fascists. There were anti fascist groups on guard in the city. In Exarhia, one of the areas that the events take place intensely, a car park was occupied and turned into a public park. The park was one of the meeting points of the activists and was made in the memory of 15 years old Alexis (Alexandros Grigoropoulos) who was killed by the police in 2008. At first, people in the park gave a negative reaction when they saw us with our photo and video cameras. When we introduced ourselves, they explained us why they don't like seeing people that they don't know with photo cameras in the park. Fascists who got in their group or undercover policemen were making their photos in order to arrest them later. When the matter was settled amicably, Ha za vu zu and Ilgın started the rehearsal of the music they were going to make together.
About the project
Zeyno: The most pleasant part of the project was the fact that we were all each other's assistant at any time. Although everyone privileges his or her own work to a certain extent, if things did not go smoothly for someone, that was enough the decrease the mood of the others; if things did go well for someone, that would make everyone happy. Therefore, every single work becomes more valuable when we consider the project in total. We were always alert to not only our own work and situations, but also the issues of the others.