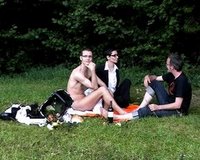 L
uncheon On The Grass
– postproduction by code flow (DVD, 8'27''; 2006)

Pan Yue (潘鉞):
An Apology to Manet
; a re-creation of
The Luncheon on the Gra
ss
Edouard Manet,
Luncheon on the Grass (1862/63)
In our world where the copy is as original as the original is, we seek nothing more than simulated stimuli provided by variations of Edouard Manet's iconic painting,
Luncheon on the Grass (1862).
While some may deem the content of Manet's work as well as its varied interpretations as demeaning, others see its artistic content and composition as media to explore issues relating to reality, codes and the consciousness.
Manet may soon diminish into a flurry of represented works by other artists, and we may soon question the authenticity of the original
Luncheon
. While the excitement of multiple expressions tempers
with issues of originality, they nonetheless satiates our cravings for new visual treats.
Who needs the original as the copy may soon be as well represented in its own context as the original itself? The original Katong
Laksa
anyone?